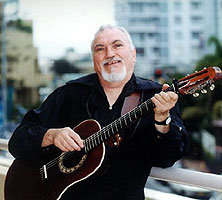 Jim was a graduate of Dramatic Art and Technique from the University of Wales in 1953. He is both an accomplished baritone and actor
He has played "Pedro" in JC Williamsons "Man of La Mancha" The Villian in three touring Pantomimes; and "The Colonel" Iin Bunny Meillions "Great Expectations1991".
Jim worked for two years as The Bard of Bunratty CastleTheatre Restaurant.
His film and television credits have him featured on a dozen commercials and five Australian feature films as well as playing seven different characters in the 1975 Benny Hill Show.

Jim spent two years as the resident singer at Pier One Sydney.
Jim has danced with Greta Scacchi in "Burke and Wills" billed with Chubby Checker and Val Doonigan, worked with Acker Bilk, Max Bygraves, Dick Emery, Buster Noble, Babs McKinnon, Nancy Bridges, and Lucky Grills.
Jim can do a one-hour cabaret show or a four hour one man band (self-contained).
He specialises in Irish, Welsh and ANZAC songs, or Rock and Roll and country.