Stephanie Lee-Harper is Queensland's leading lady magician. This warming Brisbane magician has a bubbly personality and cheeky quick wit which magically involves your guests and clients in a show they will not forget.

Brisbane Comedy Stage Magician, Stephanie, has been involved with television shows such as 'The Sorcerer's Apprentice'. She has performed for evening corporate events including Citrix Systems, Kentucky Fried Chicken, Woolworths, Griffith University and Ben and Jerry's where the aim of the night is to make certain the clients can let their hair down.
This comedy stage magic show is half an hour of visual magic, audience participation, mind-reading and interaction which is certain to leave a memorable mark on your event.

Watch some of Stephanie Lee-Harper's comedy stage magic show on youtube


SuperSteph – children's party magician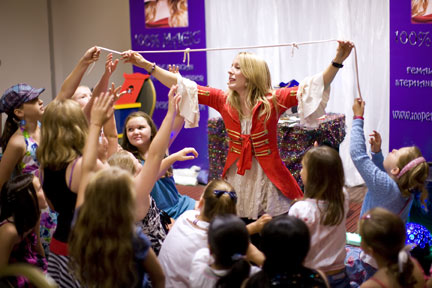 Give your birthday child a kids' birthday party they will never forget! From the moment SuperSteph arrives she takes the pressure off parents.
SuperSteph does a professional birthday party magic show, which is slick, extremely entertaining and worth every cent. The number one party tip to parents planning a child's birthday party magic show is: "Book SuperSteph!"

* SuperSteph has three magic show themes to choose from – Superhero, Pirate and Fairy.
* SuperSteph has magic shows specifically designed for different age groups for children from 3 up to 15 years old.
* SuperSteph is the ONLY Brisbane birthday party magician who can memorise 30 kids' names in 15 minutes - now that's REAL magic!!
"How do you know my name?" a child gasps
"By Magic!" says Brisbane Magician SuperSteph.

Watch SuperSteph in action on youtube