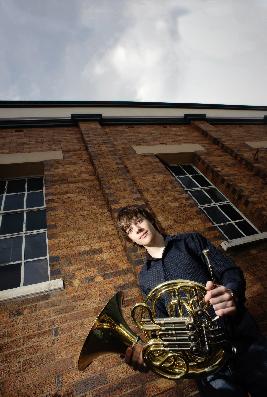 Alex Miller is a French horn player, currently based in Toowoomba. He is 16 years old.

He started learning the French horn as well as trumpet when he was eight years old, and in 2010, was awarded his AMusA diploma on horn with distinction.

Alex joined the Queensland Youth Orchestra when he was 12, and spent two years as principal horn with QYO2 before joining the Queensland Youth Symphony. He has performed three times as a soloist for QYO2.

He was successful in gaining a place in the Australian Youth Orchestra's Young Symphonist Training Program in 2010 and 2011. In addition, Alex has performed with school and community Big Bands, wind ensembles, orchestras and choirs, including the highly regarded a capella group The Grammarphones. He also enjoys on-stage roles in musicals, most recently as a member of the barbershop quartet in the Toowoomba Grammar School production of The Music Man.

In 2010, Alex was runner-up in the Queensland Symphony Orchestra's Young Instrumentalist Competition, and was a finalist again the following year. He also placed second in the International Horn Symposium Soloist Competition in 2010 for horn players aged under 30.

While at the Symposium, he attended master classes and lessons with Hector McDonald and Frank Lloyd. Alex received a grant to travel to San Francisco for the 2011 International Horn Symposium, where he furthered his contacts with the world's best players.

In March 2011, Alex performed as a soloist in three concerts with the Queensland Symphony Orchestra, performing Mozart's Third Horn Concerto. Two of these concerts were held in the Concert Hall of the Queensland Performing Arts Centre, while one was held at the Empire Theatre, in Alex's home town of Toowoomba.

Alex hopes to pursue a career as a performer of classical music, and dreams of one day playing with the Berlin Philharmonic. He is also interested in philosophy, theology, mathematics, and political activism.