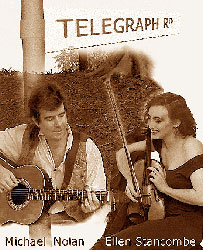 There are few entertainers in Queensland who can provide an audience with such a diverse range of styles as Telegraph Road. With a repertoire of over two hundred songs, the strength of this duo's performance is on versatility.

As a duo, Telegraph Road can pick from their extensive list of songs to create either an easy listening lay back mood, through to a focused, enthusiastic performance. Featuring songs from Australian and Irish folk music e.g. The Pouges, Van Morrison, Paul Kelly, Luka Bloom, Eric Bogle, The Furies, Redgum, and John Williamson, as well as pub favourites such as Cat Stevens, Kristy Moore and Eric Clapton.

Telegraph Road combines the musical talents of Michael Nolan and Ellen Standcombe. Together they provide a rich vocal harmony and a variety of instruments that include acoustic guitar, fiddle, mandolin, tin whistle and bass along with sequenced drums.

Michael Nolan has played guitar, bass and sung vocals as a soloist and with many professional bands for over 20 years. He has played music throughout Australia and Europe covering the Australian folk and bush repertoire as well as Irish folk and covers. An accomplished violinist and singer, Ellen Standcombe has developed a great reputation as a street performer throughout Australia, the United States, Hawaii, as well as Ireland, and throughout Europe. Ellen also plays tin whistle, mandolin, and bodhran, Skills she learned sitting in many a session in pubs in Ireland. Throughout her career Ellen has played with many of Queenslands premiere bands including Naked Kirikau, Loki, Fineen, Soul Purpose, Kumquat Mae, and Red Ned.

Telegraph Road covers the musical styles of artists such as The Eagles, The Beatles, Rolling Stones, Simon & Garfunkel, Goanna, R.E.M. C.C.R. The Doors, Pink Floyd and U2.

A full production is provided with all performances. The P.A. can cater for both small and large rooms, as well as outside venues. On stage lighting can also be provided.