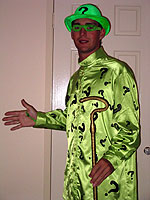 George began performing even before he started school. At age 5, he joined his older sister as a member of the Flying Fruit Fly Circus, Victoria. Many of his current skills such as clowning, juggling, unicycling, stilt walking, Balloon Sculpting, aerial acts and Chinese poles were developed by his years in the circus. Attending the Acrobatic Arts Community School meant he had maximum circus involvement.

George's talent with prop making began at an early age. He enjoyed making action models to be used in drama productions, such as the sword for Hamlet, which telescoped inwards and appeared to be plunging in. He also began making costumes and although begun as a hobby, this skill has become useful in his work with children as a party host. He creates different characters to amuse the children and to create special themes. He has recently opened a costume hire and party theme business called 'by George I've Got It!'

George has studied arts performance, drama, dance, directing, and drama and media studies at the Morton Institute of TAFE. With a background in drama and circus, he performs street theatre, stage and film roles.

George played many roles in the experimental opera production by IHOS opera/Access Arts for the Brisbane Festival in 1998. Much of George's work has been as a roving entertainer at venues such as Seaworld and for Tropicarnivale.

Puppetry is another skill and George has a talent for vocal impersonations. More recently, he has performed in hospitals entertaining patients with a variety of characters using different voices to accompany the costume changes. He also includes mime, especially in the role of Charlie Chaplin.